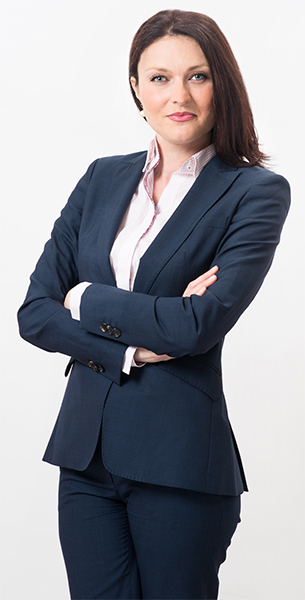 Mrs. Stela Slaveykova Kirilova
Lawyer. Born in Bulgaria (1979). Education: Law, University of Veliko Tarnovo "St. Cyril and St. Methodius" (2004), Hispanic studies, the University of Alcalá and University of Complutense (2004), Master in Advocacy and Legal Practice. Career: Legal consultant at NGO Acogem (2003), Fernando Caballero Bello Law firm (2004-2006), CSI Network S.L. (2006), Fernández-Bravo Abogados (2006), Funcovi S.L. (2007). Legal consultant for real-estate investments in East-European Countries, SIMA 2007. Bressers Law Barcelona (January-July 2008). Bressers Law Bulgaria (August 2008-March 2015).
Languages: Bulgarian- Spanish (bilingual), English, Italian, French and Russian.
Lawyer with international experience and long term practice in cross border cases in the range of commercial, civil, contractual, intellectual property and family law, representing both local and foreign corporate and individual clients from the UK, Ireland, Spain, Holland, Belgium, France, Italy, Mexico, etc. Specializing in the area of European Union Law and International Private Law, for that purpose the direct communication and negotiation on the concrete language is done entirely under her leadership.
In a world of global economic globalization especially important for customers is to receive the most professional and highest quality service according to their criteria.
Member of the Organization of European Lawyers-UK /Italy/Russia
Member of the Organization of International Lawyers-Spain
Member of the world organisation for cross-border co-operation in civil and commercial matters.
"My philosophy is focused on flexible service and professional attitude to every customer in his own language, in striving for maximum protection of his interests, from his personal saving time and money. A common practice is to consult customers from a distance, which is a result of the proven flexibility, efficiency and transparent policy that wins their trustduring during all these years. Efficiency is a commitment that is necessarily present in my work."